In the late 1970′s drought and warfare forced the Mursi to migrate in search of ba lalini, cool ground. We work for land and livelihood  security, and peace, 'cool ground', for the people of lower Omo, Ethiopia.
260,000 People Threatened by Dam and Irrigation Development in Ethiopia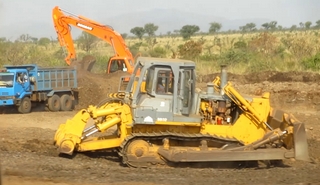 Ethiopian government development plans in the lower Omo Valley are endangering people from 17 ethnic groups near the Omo River, and Lake Turkana, Kenya. Reports of killings, rape, beatings and imprisonment have followed.
Donate now to help the people of the Omo!
The Gibe III Dam, plantations and a forced resettlement program, as well as the offtake of the Omo River water needed by Lake Turkana, are endangering the ethnic groups. International donors, DFID and USAID, have been accused of providing support for developing the resettlement program (DFID). Read more…


 Follow this issue: Save the Omo Valley and Lake Turkana Facebook page
Source Material on Human Rights Violations in South Omo, Ethiopia
Here are archives of human rights violations by topic, plantations, the Gibe III Dam and the Omo River, and international donors.