Omo River and Gibe III Dam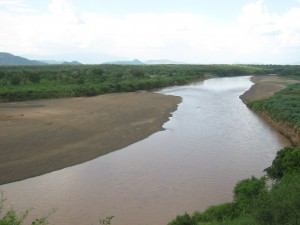 The Gibe III Dam has greatly reduced the Omo floods the local people rely on for agriculture. The floods will be gone in 2014 when the dam is complete.
The loss of the Omo River flood Reports from local people by the banks of the Omo River December 2009 – January 2010.
Flood Death Toll Possibly Exaggerated, Will Conners, Middle East Times, August 29, 2006. This article shows that the insistence by the Ethiopian government that the Gibe III Dam would help stop loss of life from floods like the flood of 2006, may be a faulty argument:  http://www.ethiomedia.com/carepress/inflated_death_toll.html
Gibe 3 Concerns this paper by anthropologist David Turton was sent in July 2011, to H.E. Alemayehu Tegenu, Minister of Water and Energy, Ato Meheret Debebe, CEO of  EEPCo, Weyzero Azeb Asnake, Project manager for the Gibe III Dam, and Dr Tewolde Gebre Egziabher, Director General of Ethiopia's Environmental Protection Agency. All which Dr. Turton had met  in Addis, a few months earlier, in December 2010.  He had no replies from any of them, so sent the paper again, six months later (January 2012) – again, no replies. In a separate exercise, also in July 2011, he sent the same paper to the then Minister of Health, H.E. Tedros Adhanom (now Foreign Minister). No reply from him either. Here is also his email to the officials introducing the paper To Alemayehu Tegenu 24 July 11
In the Shadow of Leviathan Criticism of the Gibe III Dam from anthropologist David Turton. Paper presented at a workshop on 'Economics, Social Justice, and Ethics in Development-Caused Involuntary Migration', held during the 15th International Metropolis Conference, The Hague, 4-8 October 2010.
Hydrologist Sean Avery's report on the impact of the Gibe III Dam, and irrigation development, on Lake Turkana. This report predicts the level of Lake Turkana will drop by up to 20 meters: http://www.africanstudies.ox.ac.uk/lake-turkana-and-lower-omo-hydrological-impacts-major-dam-and-irrigation-developments
Illustrated booklet summarizing Sean Avery's report on the Gibe III Dam, plantations, and Lake Turkana: http://www.africanstudies.ox.ac.uk/sites/sias/files/documents/WhatFutureLakeTurkana.pdf 
Community-based map of Mursi territory 8.7 MB download. This map was made with the Mursi community showing the villages and resources they use, including the villages and cultivation sites along the Omo River. They are being removed from much of this area now.
The Downstream Impacts of Ethiopia's Gibe III Dam: East Africa's "Aral Sea" in the Making? An International Rivers report.
"What Will Happen if Hunger Comes?" Abuses against the Indigenous Peoples of Ethiopia's Lower Omo Valley A Human Rights Watch report.